As the 21st century comes with many innovative inventions and technological advancements, many people are concerned about the state of the environment as a result. The global increase in carbon emissions can be reversed by using eco-friendly materials. Common sources of environmental pollution include building materials for offices and the generation of power from fossil fuels.
Also, the production of consumer goods in factories should be carried out with energy-efficient systems. Our focus is on incorporating European designs in your new office. However, you can save money and create a safer environment with sustainable design and decor elements.
Install Smart Airflow Sensors
With a roof design that has vents, it's easier for smart airflow sensors to enhance the quality of indoor air. Ask your architect to redesign the office if it lacks natural ventilation. Then install smart airflow sensors to promote a warm, and welcoming ambience.
A smart airflow device monitors the outside air temperature and controls your office temperature to suit the number of users. It measures the sensitivity of office equipment to the temperature differences. This function protects your office equipment from fire due to excessive heat.
Install European Windows and Doors
Office spaces that run on ultra-low energy design can optimise hot and cold temperatures. These types of doors and windows have multiple-glass designs. During the winter months, European-style windows and doors conserve heat because they have thermal insulators. The tilt and turn windows have a stylish design that allows the natural flow of air. It opens inwards, and you can tilt the bottom parts of this window.
This principle ensures the window's top frame is angled for proper ventilation. Another essential aspect of European design for offices is the triple glazed windows and frames. Their insulating materials have effective thermal conductivity. Also, the glass surfaces of these windows have low emissivity (Low-e) coats. In simple terms, these features prevent mould and moisture damage to office walls. 
Use a Variety of Assorted Furniture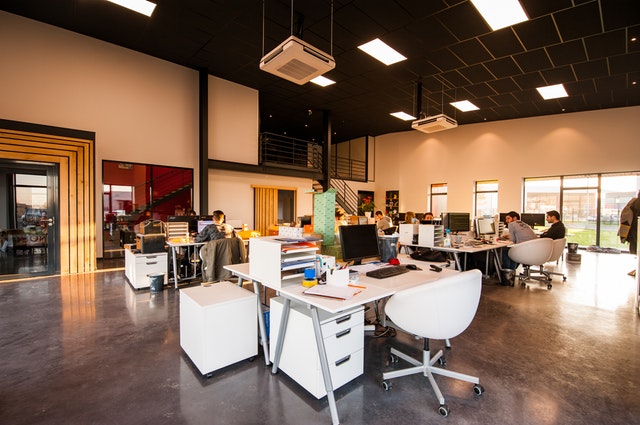 In the United Kingdom's Google office, the main reception area has colourful and asymmetrical furniture. In this space, it's the stylish furniture design that creates incredible impressions. You can create an office reception area with unique furniture that mimics an informal environment.
Clients and employees need functional spaces that feel cozy. While stylish furniture enhances employee productivity, meeting rooms with assorted furniture make clients feel at home. To create more space in your meeting room, integrate semi-circular tables and slim-profile cabinets. Office interior decorators can help you to come up with ways of making a room feel more spacious.
The Georgian-tufted chair has an exquisite design, and it enhances the office space. It might be classed as vintage-style furniture because of the tufted detailing, but this type of chair offers a contemporary appeal. You can add this blend of antique and modern furniture elements in your new office.
A Co-working Space With Glass Panels
Unlike the traditional office space with cubicle designs, your office can have a modern look with an open-plan design. This idea of a modern workspace can be created with covetable desks, flower vases, arts, and eco-friendly materials.
Also, a layout with private offices and open workstations promotes internal communication. Hire design-conscious professionals to integrate terrazzo floors and glass-rollup doors in common areas. This see-through design can serve as a partition (divider) between the co-working space and reserved areas.
Don't Forget To Add Bespoke Lighting Fixtures
Even with an office interior design of open ceilings, a variety of European-styled light fixtures can enhance the interior space. I wouldn't recommend an office with full- glazed windows because natural light boosts mental alertness. Chandeliers, mirrors, and lights are effective design elements of reception areas. However, you can install window blinds to control the intensity of natural light.