I have never prioritized getting furniture. I survived my mid-twenties with hand-me-down furniture but when I moved out of sate and got my own space, I was forced to furnish a home. It took me long a time to scavenge every coastal furniture store and garage sale within my area.
I'm now in the market for a few furniture like a couch and armchairs. So I'm back to furniture hunting. However this time, I'm not after on the price but also the quality. I have consulted a lot of furniture representatives, interior designers and even furniture craftsmen. Here's a few tricks that I learned.
Furniture tips: wood
Know your wood types
There are three categories of timber products/wood furniture: solid wood, veneers, and particle board or composite wood.
Normally, solid wood furniture is more costly compared to other wood furniture and it also looks great. However, it is vulnerable to scratches and water rings. Veneers are a cheaper alternative for wood furniture. It has inexpensive wood base covered by several thin layers of better-quality wood. Particle board and composite wood pieces are the cheapest option since it is basically composed of the scraps of the furniture world. It's mainly a combination of wood pulp, plastics and resins. It looks decent but quality-wise, it's not as durable as solid wood and won't hold up for decades. The Interior design of the space will almost always shape what type of wood would be fitting. You can sometimes get away with the cheaper types but sometimes you need a statement piece in the room.
Check drawers and cabinets
Examine all the drawers and cabinets before purchasing the furniture. Ensue that the drawer pulls all the way out, latches properly, and then shuts evenly. The doors should be able to remain in an open position when trying to retrieve something inside and shut again after. Knobs and handles should have a tight fit to ensure no jiggling or turning.
Avoid nails and glue
Wood joined at ends and corners, not glued or nailed in are recommended. Pieces made from wood joinery are studier and can take more weight. This applies to flooring as well. Glue laminated is a great quick alternative saving you both time and money.
Furniture tips: fabric
Consider your lifestyle
Colors and fabrics is determined by the lifestyle you lead. Take for instance, buying a suede couch is not advisable if I have pets constantly climbing on the furniture. The couch would be torn apart and stained in minutes. If you have kids or pets, refrain from getting furniture with light colors and easily stained fabrics.
Be realistic about colors
I was once attracted to a bright orange color that I bought an orange corduroy armchair. The interior motifs of my home back then were orange, blue and white. I thought that I would love the color combination forever. But I soon got fed up with the color and ended up selling the chair for a fraction of what I paid for. I hope you learn from this mistake. It's better to stick to neutral colors especially with more expensive pieces to avoid future regrets. You can use the bold colors for décor pieces. A crafty interior design style will ensure the statement pieces will remain classic within your home and you won't get fed up with them as easily or if at all.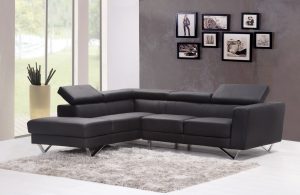 Inspect the legs
The legs should be sturdy, and properly joined to the frame of the couch or chair, not nailed. Plastic, rubber, or metal legs are not recommended since they can tear up your floors, and won't hold up as well. If your budget for the couch is more than $1000, then opt for one with a fifth leg in the middle. These provide you with extra support – you won't find them on many cheaper sofas.
Check the springs
Look for a sofa with traditional coiled springs if you prefer firm sofas. If you want a softer feel, go with zigzag coils. Before you buy, examine it properly by taking off the cushions and press down on the base of the sofa. The coils should be able to push down and spring back into place immediately.
Test the cushions
Firm cushions are more durable and can last longer. A good couch has firm cushions with a removable cover matching on both sides. Fully covered cushions are more expensive compared to than ones with the pattern on one side and a plain white or tan backing. However, they'll last longer and wear evenly if you can flip regularly. Find removable covers that are easily washable.
Buy at the right time
Furniture prices vary throughout the year, especially on holidays. Memorial Day and Veterans Day, both popular times for furniture sales are the great time to get great deals according to Expert Stacy Johnson. Wait until the Fourth of July or even Christmas can get you the best deals. This is when furniture stores push to get rid of the last of their inventory and offer the biggest discounts.
Don't rule out used furniture
Secondhand furniture can get you great deals as long as you inspect it thoroughly. Examine it carefully and look for rips, stains, tears, water marks, and scratches. Lift up the cushions and look for stains or damage on the inside of couches and chairs. Sit on it for as long as time allows verify its sturdiness and comfort. Used is great for eco outdoor furniture as its prime purpose is the outdoors, so having an edgy look about it can add to your interior space.
Don't buy it at all
Although I would not really be recommending using a second hand couch from the side of the road, you'd be surprised how much good furniture is available for free. Take for instance; I recently got a useable kitchen table off my local Freecyclesite. There is also the free section of Craigslist, and don't forget friends and family. When they're tired of something, they might be willing to give it to you.
While some people enjoy bargaining, I prefer to wait for a sale than try to talk down a salesperson because haggling makes me uncomfortable. But there are two purchases that are haggling "musts": cars and furniture. Furniture stores put a large markup on furniture, so have a lot of wiggle room. They can give you up to 20% discount if you ask. If that doesn't work, go for an extra: free pillows or free delivery and setup.